Tales From

Three Gardens
Standing beside the window as the warmth of a late September sun drenches our flat in light. Three Jolly Roger roses blossom beside the grape vine in the garden below. The holly tree is full with red juicy berries, fit for a Christmas pud. Pink sedum grows proudly and passion flowers still drape themselves from the tangle of yellow roses and wisteria which adorn the fences. As the last colours of summer hold on to the warm and wet days, dry seed heads and faded colours bow to the approach of autumn weather. The compost heap is nearly full and ready to freeze, thaw and break down through winter. It is time to plant snowdrop bulbs for February, bluebells for April, delphiniums, aliums, lupins and stocks for next summer.
It has been a busy summer at Mambo Gardens, with several new gardens created and established ones renovated and developed. I would like to share three projects with you -
1. Courtyard Garden in Streatham
When a professional couple came to us with a brief to turn a cramped and tumbledown courtyard in to a safe and more spacious area for foster children to play, we were happy to implement the design by Angela Newman. Using curved walls and woven fencing we made the space seem larger. Some fresh planting to grow out next year and help this couple on their way with their new child.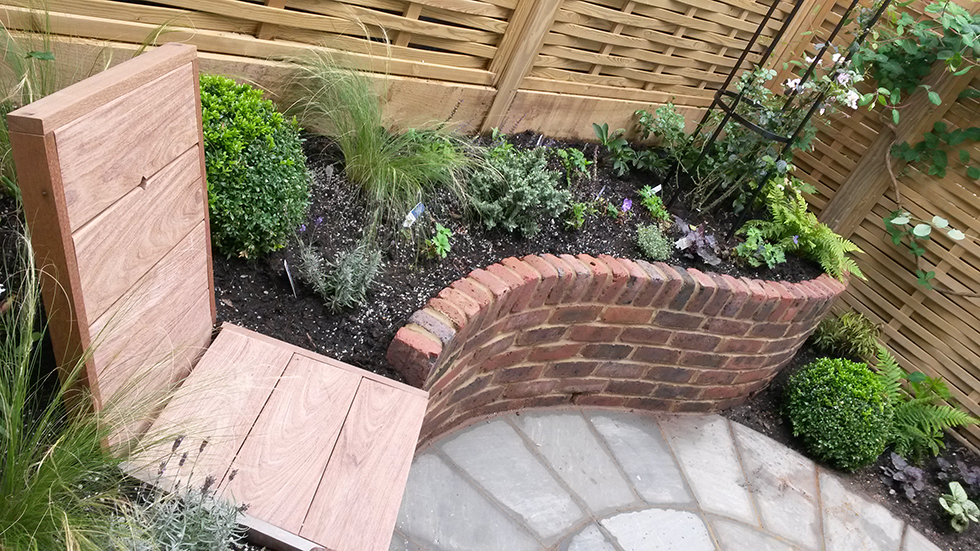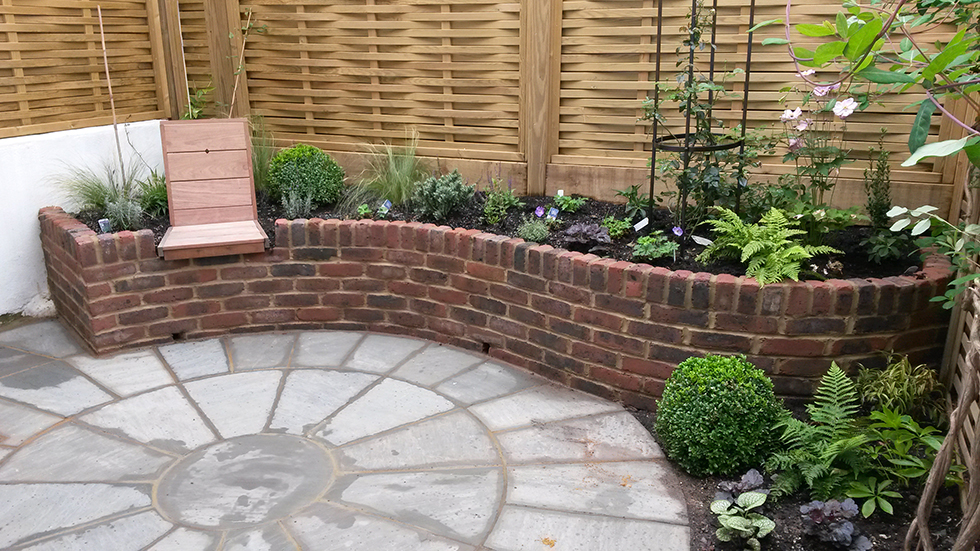 2. Sunken Garden in Barnes
After having an extension and blocking in the side return, the garden had become neglected and was more of a rubbish dump and a bramble thicket than a garden. Clearing out everything except the established rose climbers adorning the fences, we raised this sunken mess to a mirror image of sawn raised sandstone patios with chunky oak cube planters. In the corner we built in a sunken stone trough with soak-away system for dog washing. All that remains is planting next summer and the construction of a bike shed out front from the reclaimed oak floorboards stripped from the house during its conversion.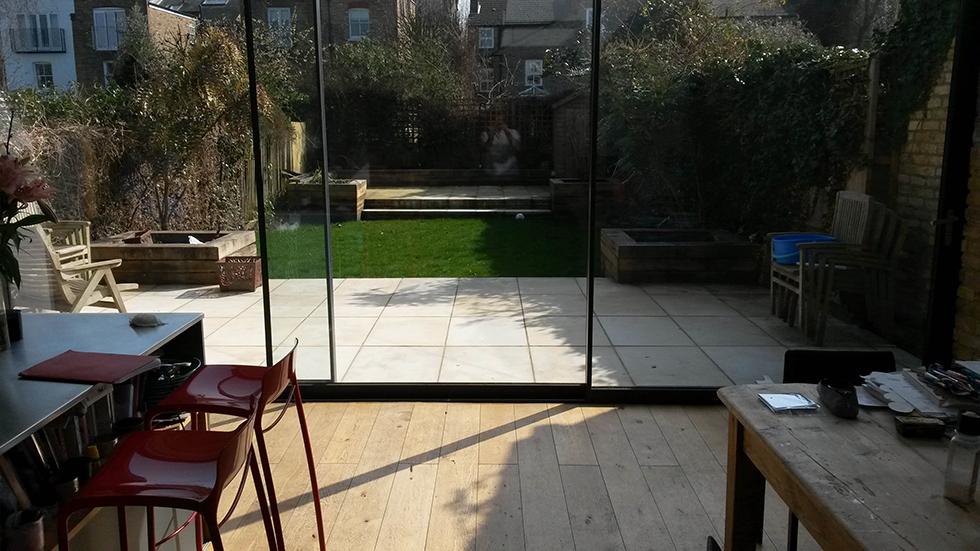 3. Raised Garden in Tulse Hill
The house was beautiful, but the garden was overgrown and neglected. First step was to establish nice clean borders. Traditional close board fencing to a height of 4' retained the social-living style while allowing for privacy. (You can come to the barbeque, but you can't just reach over and pinch a hotdog). Using reclaimed York stone from a family member to provide an excellent new seating area at the end of the garden to catch any afternoon sun that we may be blessed with in London. A spacious lawn for the little ones to play on completes the design, with a colourful shed and sleeper planters. Common to all the above design projects, climbers were retained – in this case an old rose hip, wisteria and clematis – all to be interwoven into the fencing and provide vertical greenery and colour rather than compromising the play area through planting.